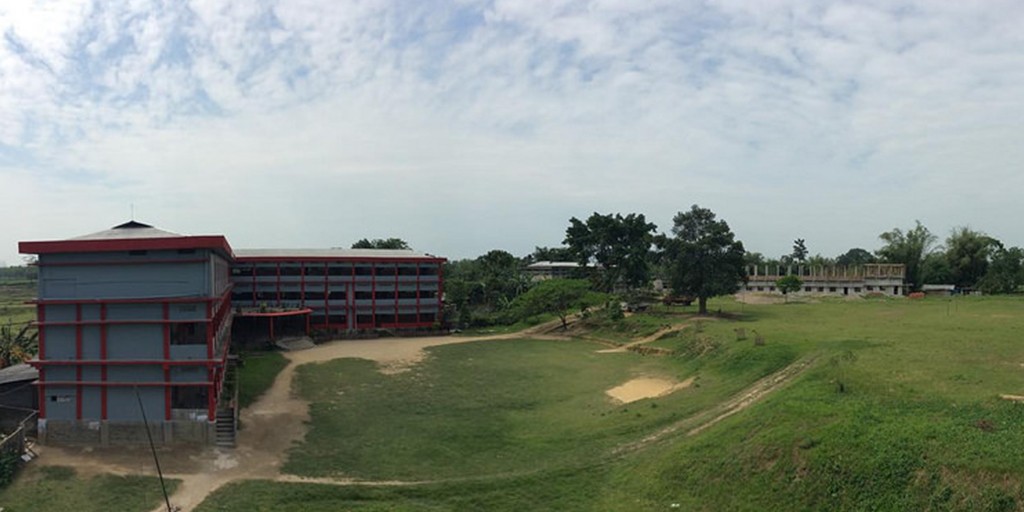 Educo Pengaree school
Leader: Fr. Telesphore Lakra
Location: St. Xavier's School, Pengaree, North East Assam
Started: January 2003 in mud building; 2007 in new building
Partner: Jesuit Order
Teachers: 19
Pupils: 780 [Kindergarten – Standard 10]
---
---
---
Building Progress
The reinforced concrete 3 storey structure of the building is now finally complete! Classes are painted and furnished. Together with building a fully fledged football ground and two volley-ball courts are being used by the students. There is a plan for a basketball court too, just in front of the school building and also proposed is a mini-stadium for the basketball court.
School Proper
The school at Pengaree continues to grow, and is now educating 780 pupils! Classes are from lower kindergarten to class 10, so there are 12 class rooms running currently. At present there are 18 teaching staff and three non-teaching staff. There are 21 active members working in the school. These in turn are supported by the greater Jesuit order at large. The Jesuits keep the school running, while Educo just oils the wheels.
Academic sessions
School in Assam typically starts in mid January each year and continues until June 30th as its first semester. On a typical day, there are seven teaching classes and one extra study period. Revision time is given every day after school. To give students an all-round development, every week there is one period for games and one for work experience/manual work. In addition, every day the children get some physical training and do morning exercises. School starts its second semester usually on August 1st and continues till mid December.
Computer Education
The students of St. Xavier's, Pengaree have twenty computers. They sit both theory and practical computer classes. Students from standards four to nine are equipping themselves with modern computer knowledge. Every day after the class students have practical classes. The school now has email and skype connection. The only problem is that there is no broadband facility so skype connection is weak and very slow.
Exams and Tests
At the end of every month, pupils have to sit the class tests. And also some homework is given to them. At the end of each semester there is the half yearly exam. The questions come from outside (independent, 3rd party), from the Diocesan Educational Board. School also has five unit tests in a year. After the exams, there is a full month summer/ rainy season vacation. School re-opens on August first.
Competitions
Every year there is a State–level talent Search exams. Thousands of students participate from all over Assam state. In 2011 nine of ours qualified in the exam who are rewarded certificates and some cash. That was the first time the school has recorded its name in the state level exams. Thus, the school has grown and progressed very, very positively.
School Boarders
Some poorer/more remote students stay overnight in the school campus. Currently 18 children are living in the school campus. We make provision for their studies and stay. They manage their food by themselves, taking cooking in turns. These children are generally from distant villages, where a commute would take too long and be too costly.
Summary Background
As with the St. Stanislaus School in nearby Konapathar, Educo partners with the Jesuit order to run this English-medium secondary school for the children of the impoverished local tea-pickers.
In this very remote part of North East Assam, Educo (with Maitri & Owen Finegan) funded the building of a large brand new school with a capacity for 1,500 to educate local children up to Standard 10. Educo recognised the need to build this school after witnessing the success of the original Jesuit school which was run out of a mud building, until a typhoon washed it away.
The children who attend this school come from families of originally migrant workers from other states in India or from Nepal or Bhutan. As such, they have minimal rights in Assam because they are neither Assamese nor a recognised minority. This means they are excluded from state-run schools, and local private schools are too expensive for the parents of these children who typically only earn 1,500RS per month.
The Jesuit order has a long proven track record of providing high quality education in India, and in all three (non-denominational) schools we jointly run in Assam, they fully share our commitment to teaching through English, equiping the students with computer skills, and ensuring female students stay to complete their education.
Educo Pengaree goals
1. To grow the school to its capacity of 1,500 pupils
2. To compete in Statewide external exams & ensure some students go on to graduate from college, to provide much needed role models for the children
3. To fully develop the sports facilities – the school is on a 4-acre plot & has many underused playing fields.